Details

This product is no longer available.
Publications
Featured Product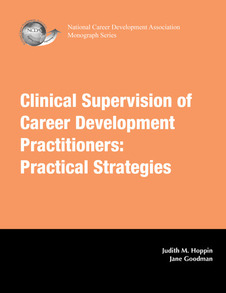 Whether the supervision is required to meet certification and licensing requirements or for the growth and development of the practitioner, we offer this monograph as an exploration of supervision around career issues, emphasizing specific and additional elements beyond general clinical supervision. The monograph is designed for individuals supervising career counselors, vocational psychologists, career development facilitators, coaches, student affairs personnel working in career services, school counselors in the career aspects of their work, and others engaged in providing career service to students and clients.
On Sale for $15.00 thru Sept 30, 2019.
Shop the Career Resource Store now. Shipping and handling charges still apply.
Monthly Specials
---
Read More!
Many of our products include links to Book Reviews or Excerpts, which are also archived in our Career Convergence web magazine.