EXHIBIT HALL
2020 Exhibitor Prospectus Coming Soon!
The NCDA Global Career Development Conference welcomes exhibitors and sponsors from public and private corporations, government agencies, educational institutions, and professional associations who offer career-related products and services such as books, media, computer-based systems, assessment instruments, and online services.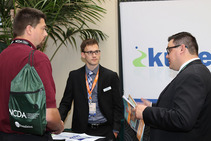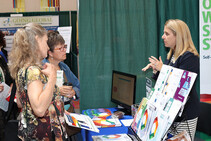 Questions?
Alicia Cheek
305 N. Beech Circle
Broken Arrow, OK 74012
Phone: (918) 663-7060
Fax: (918) 663-7058
acheek@ncda.org
---
2019 Virtual Exhibit Hall
Booth # 101
Self Directed Search
Contact: Teri Lyon
cs@parinc.com
(800) 331-8378
www.parinc.com
The Self-Directed Search (SDS), developed by John Holland using his groundbreaking RIASEC theory, is a reliable and valid career assessment and exploration tool that helps your clients discover occupations and programs of study that best match their personality. Since 1971, the SDS has been translated into more than 30 languages and has been used more than 35 million times. The new SDS has flexible administration options and is designed to meet the needs of a variety of individuals, including middle and high school students, adults, and veterans. The SDS is published by PAR, Inc. a leading publisher of psychological assessment materials.
Booth # 103-105
U.S. Army Recruiting Education Division
Contact: Ina Jane Tyler
ina.j.tyler2.civ@mail.mil
(502) 626-1981
www.goarmy.com
The Army Continuing Education System (ACES) through its many programs promotes lifelong learning opportunities and sharpens the competitive edge of Army, 2010 and beyond. ACES is committed to excellence in service, innovation, and deploy ability. The ACES mission promotes lifelong learning, readiness and resilience through flexible and relevant education programs, services and systems in support of the Total Army family. Please visit our Army booth and visit with an Education Specialist and learn more about educational programs.
Booth # 107
Grand Canyon University
Contact: Greg Gasaway
greg.gasaway@gcu.edu
(469) 401-0689
www.gcu.edu/udc/greg.gasaway
Grand Canyon University is Arizona's premier, nonprofit, private Christian university committed to delivering affordable, transformative higher education. GCU's nine colleges offer more 200 academic programs, including 150 online academic programs, for traditional students and working professionals. Students may learn on GCU's vibrant campus or as part of a dynamic online learning community. Find your purpose at gcu.edu
Booth # 111
TruPulse
Contact: Kim Webb
kim@trupulseusa.com
(346) 420-1085
www.medicpadusa.com
TruPulse is a retailer of portable, therapeutic massagers called TENS units. Our devices are a non-invasive and drug-free means of achieving pain relief, and are approved by the FDA as Class II Medical Devices.
Booth # 113
Type Focus Careers
Contact: Dave Wood
dave.wood@typefocus.com
(250) 477-6179
www.typefocus7.com
TypeFocus7 Careers is the most advanced Internet-based career program available - specifically designed for colleges and universities. You will love the NACE Career Readiness Competencies, transferable skills, advanced career path software, and validated assessments. As well, we offer a unique student retention feature that has proven itself with our clients.
Booth # 115
AI Care LLC
Contact: Ali Uysal
info.aicarellc@gmail.com
www.hidow.com

Booth # 117
Graduway
Contact: Sarah Hillel
sarah.hillel@graduway.com
www.graduway.com
Graduway is the leading provider of Digital Career Community platforms. Graduway's Digital Career Community empowers a valuable network of students, alumni, and supporters, resulting in long- and short-term mentoring that drive successful career outcomes. With the Graduway platform you can increase the reach and scale the impact of your Career Services offering.
Booth # 200
Careerandtalenthub.com
Contact: Barb Wyskowski
bwyskowski@careerandtalenthub.com
(877) 238-1816
www.careerandtalenthub.com
The path to a career after college is a difficult one. Instill the importance of gaining experiences and obtaining recommendations from references that will highlight unique abilities and skills. Everyone has a story that identifies them as a unique individual. Careerandtalenthub works with students and alumni to tell that story.
Booth # 201
EdITS LLC
Contact: Lisa Lee
lisalee@edits.net
(800) 416-1666
EdITS is an industry leader in career assessments. Our COPSystem package is unique in that we include a measure of interests, abilities, and work values combined for a comprehensive self-profile. We have a long-proven history of accurate, reliable, and valid assessments to help in career exploration and occupational selection.
Booth # 202
Greenwood Career Counseling Systems
Contact: Daniel Greenwood
dan.greenwood@greenwdassoc.com
(949) 287-2774
www.greenwdassoc.com
The Greenwood System is the perfect tool for engaging students and adults making important educational and life decisions. This online career counseling assessment and process is a state-of-the-art, research proven, instrument that creates a comprehensive and insightful personality profile and identifies best-fit careers based one's values, interests, personality and abilities.
Booth # 203
American Counseling Association
Contact: Carolyn Baker
cbaker@counseling.org
(703) 823-9800
www.counseling.org
The American Counseling Association (ACA) is the largest member organization of counseling professionals in the world. Our 54,000 plus members work in various practice settings and our mission is to promote the professional development of counselors, advocate for counselors, and to ensure that ethical, culturally-inclusive practices protect all people who seek counseling services. We work to raise awareness about the myriad benefits provided by counseling and counseling professionals.
Booth # 204
Career Liftoff Interest Inventory
Contact: Ronald Page
ronald.page@aai-assessment.com
(952) 952-6551
www.careerliftoff.com
The Career Liftoff Interest Inventory (CLII) and the Work Behavior Inventory (WBI) are assessments that help identify the fit between individuals and occupations. Based on the RIASEC model and O*NET work styles and skills, they provide reliable and valid measures of vocational interests and work personality. They are used by students, mid-career, and encore-career individuals to help optimize both work satisfaction and effectiveness.
Booth # 205
CERIC
Contact: Riz Ibrahim
riz@ceric.ca
(416) 929-2510
www.ceric.ca
CERIC is a charitable organization that advances education and research in career counselling and career development. It funds projects to develop innovative resources that build the knowledge and skills of diverse career professionals, including the new book, Career Theories and Models at Work. CERIC also annually hosts Cannexus, Canada's largest bilingual career development conference, publishes the country's only peer-reviewed journal, Canadian Journal of Career Development, and runs the CareerWise / OrientAction websites, providing the top career development news and views.
Booth # 206
CareerOneStop
Contact: Kelly Tenner
kelly.tenner@state.mn.us
(651) 539-5681
www.careeronestop.org
CareerOneStop.org, sponsored by the U.S. Department of Labor, Employment and Training Administration, offers free electronic tools and resources to help users explore careers, education, training and jobs. Check out mySkillsmyfuture, Certification Finder, Skills Matcher, Interest Assessment, and more. Audiences served include job seekers, students, workforce development professionals, and businesses.
Booth # 207
Securities Training Corporation
Contact: Darryl Frierson
Darryl.frierson@stcusa.com
(314) 529-8096
As the leading provider of online education to Wall Street, STC has trained over a million finance, insurance, and business professionals for the past 50 years. Now, our University Recruitment Solution allows our 1,400 financial services partners to recruit directly from the universities offering our curriculum and preparing qualified students with licensing and preparation for the SIE, Series 7, and other securities exams, accelerating careers and reducing expenses for our corporate sponsors.
Booth # 210
Center for Credentialing & Education
Contact: Winifert Lawson-Graves
Lawson-Graves@cce-global.org
(336) 482-2856
www.cce-global.org
The Center for Credentialing & Education™ (CCE)® is a global not-for-profit organization that offers assessments, credentialing, business support and licensure services. CCE's products and services advance professional credibility of individuals and organizations worldwide. CCE's portfolio of services are grounded in research, experience and in collaboration with its parent company the National Board for Certified Counselors (NBCC)®.
Booth # 211
Bureau of Labor Statistics
Contact: Stanislava Ilic-Godfrey
ilic-godfrey_s@bls.gov
(202) 691-5690
www.gls.gov/emp/
The Bureau of Labor Statistics (BLS) produces the Occupational Outlook Handbook, one of the most widely used career guidance resources with information on education and training requirements, pay, and the job outlook for hundreds of occupations. Staff are available to answer questions and demonstrate how to navigate the BLS website.
Booth # 212
ASVAB Career Exploration
Contact: Shannon Salyer
asvabcep@gmail.com
(301) 751-6552
www.asvabprogram.com

The ASVAB Career Exploration Program is a no-cost planning tool designed to help students in grades 10-12 and postsecondary make informed career decisions. The ASVAB CEP includes a validated aptitude test and interest assessment. Students explore all career field entry requirements and paths to career attainment to support career literacy.
Booth # 213
iTouch Relief
Contact: David Levi
itouchrelief@gmail.com
(682) 202-0330
www.itouchrelief.com

Booth # 214
Jobs Connected
Contact: Michael Oelbaum
Michael.oelbaum@jobsconnected.com
(516) 603-9204
www.jobsconnected.com
Host more career fairs with ease. Jobs Connected hosts video chat career fairs and other online events for institutions. Students and job seekers can video chat with employers in real-time, giving them an experience just like an in-person event, but without the hassle. Also, ask us about our graduate school fairs and other events.
Booth # 215
NADA Foundation
Contact: Chuck Cyrill
ccyrill@nada.org
(703) 821-7102
www.nadafoundation.org
NADA Foundation — the retail auto industry's philanthropic arm — promotes workforce development. Over 16,000 new-car and -truck dealerships nationwide employ more than 1.1 million people in good-paying jobs in sales, service and management. These are technology jobs with excellent wages, benefits and career paths with real opportunities for advancement.
Booth # 216
PeopleGrove
Contact: Anna Westendorf
anna@peoplegrove.com
(650) 584-3400
www.peoplegrove.com

PeopleGrove is an alumni network, community engagement tool, and personalized success team, all rolled into one. We support students' career growth by providing the support and connections they need to succeed. Come see why institutions around the world have selected PeopleGrove to empower their communities and deliver lifelong career support.
Booth # 217
PAIRIN
Contact: Carli Franks
cfranks@pairin.com
(855) 724-7466
www.pairin.com

PAIRIN uses friendly science to personalize career exploration, job matching and professional development to break down barriers to employment, especially for at-risk and disadvantaged populations. By partnering with workforce development programs, states, educational institutions and businesses, PAIRIN works across the entire talent pipeline to facilitate equitable hiring for all citizens.

Booth # 300
Career Development Network
Contact: Dick Knowdell
rknowdell@mac.com
(408) 828-3858
www.careernetwork.org
The Career Development Network conducts career development training and certification programs is North America, Europe, Africa, Asia, Australia and New Zealand. Since 1994, over 7,000 career practitioners have completed the Job & Career Transition Coach Certification workshop. We publish a bi-monthly newsletter and a quarterly journal that are free to career practitioners.
Booth # 301-303
Kuder, Inc.
Contact: Bailey Rowell
rowellb@kuder.com
(800) 314-8972
www.kuder.com
Kuder is an online career guidance solutions provider that has helped more than 165 million people worldwide visualize what's next in life and make the plans to get there. Kuder's customizable and comprehensive tools and resources — including research-based assessments and real-world, actionable guidance to users of all ages — reflect a companywide commitment to encouraging lifelong learning, development, and achievement. From pre-kindergarten to postsecondary or tertiary education, from entering the workforce to mid-career transitions, Kuder helps people of all ages dream big and plan accordingly.
Booth # 302
AmeriCorps/America's Service Commissions
Contact: Brent Kossick
brent.kossick@alignedimpactscs.com
(803) 470-2025
www.statecommissions.org
AmeriCorps, oftentimes referred to as the domestic Peace Corps, is an innovative public-private partnership that engages individuals of all backgrounds in evidence-based programming that enables participants to serve others while also developing marketable job-skills, earning a monthly stipend, and accessing scholarships to further their education or pay back student loans.
Booth # 304
Vocational Research Institute
Contact: Krista Biesecker
info@vri.org
(800) 874-5387
www.vri.org
CareerScope® is a valid, reliable, and objective interest and aptitude assessment that can also help you meet WIOA requirements. CareerScope results are valuable for developing transition, training, and employment retention plans. Now CareerScope results can be automatically integrated into OccuBrowse+ which provides real-time occupational information. Ask about a free demo!
Booth # 305
One Life Tools
Contact: Kat Klippenstein
service@onelifetools.com
(888) 990-7360
www.onelifetools.com
Do your clients tell you stories? Career practitioners Rich Feller and Mark Franklin co-created OneLifeTools to help you use narrative approaches in organized, time-saving and scalable ways. Our affordable tools and training are used in high schools, higher ed curriculum, career centers, private practice and workplaces. Applications range from self-exploration, peer feedback, career & retirement planning and reflection on experiential learning to team-building, feed-forward performance management and diversity & inclusion initiatives. At our #StoryListening booth, we're offering live demos of our WhoYouAreMatters! boardgame and Online Storyteller web application. Come play and share your story!

Booth # 306
The International Advantage
Contact: Marcelo Barros
marcelobarrosmba@gmail.com
(443) 610-5558
www.theinternationaladvantage.com
The mission of The International Advantage is to help international students stand out, showcase their strengths, live in their authenticity, and secure jobs in the United States. One way we accomplish this is by partnering with universities to help foreign students capitalize on the unique value they bring to American employers. We empower international students to beat visa odds and ultimately get hired. Harvard, Stanford, NYU, Cornell, Texas A&M and TCU are examples of some of the schools we partner with.
Booth # 307
Interstride
Contact: Nitin Agrawal
nitin@interstride.com
(281) 928-8674
www.interstride.com
Interstride enhances the job-search experience for international students and domestic students exploring careers abroad. Through desktop and mobile apps, Interstride offers global job listings, real-time hiring trends, employer information, tailored assessment tests, and productivity tools. Along with content, news and networking tools, the platform helps students overcome cultural differences, become a better networker, and make the most out of their international experience.
Booth # 310
SparkPath
Contact: J.P. Michel
jp@mysparkpath.com
www.mysparkpath.com
Do you want to help your students look beyond job titles? Use the Challenge Cards and the new Skilled Trades Cards to energize students to identify work challenges they care about. Use this interactive, innovative activity to increase preparedness, reduce anxiety and inspire action!
Booth # 311
Business Model You, LLC
Contact: Tim Clark
tim@businessmodelyou.com
(971) 263-8890
www.businessmodelyou.com
Business Model You, LLC trains individuals and enterprises to dramatically improve the worker experience. Based on a global bestseller published in 20 languages, the Business Model You® method enables users to draw powerful, engaging "pictures" of work that reveal both hidden blocks to progress and surprising new career possibilities.
Booth # 312
FINRA
Contact: Bridget Fox
bridget.fox@finra.org
(240) 386-6472
www.finra.org/industry/sie-students
FINRA, a not-for-profit organization dedicated to investor protection and market integrity, recently introduced the new Securities Industry Essentials (SIE) Exam for prospective securities industry professionals. This introductory-level exam, which assesses knowledge of basic securities industry information, is the first required step for those interested in working in the securities industry, including students.
Booth # 313
Resume Writing Academy/Career Thought Leaders
Contact: Marie Zimenoff
marie@careerthoughtleaders.com
(970) 420-8413
www.careerthoughtleaders.com
Career Thought Leaders Consortium and Resume Writing Academy convene career service professionals to share best practices, deliver innovative educational and research programs, and promote the credibility, visibility, and professionalism of the careers industry. Access to trends, resources, and leading-edge training supports your professional development – from writing resumes and LinkedIn profiles, to starting or growing your business, staying on top of personal branding trends, and improving candidate success. Stop by Booth 313 to meet CEO Marie Zimenoff, NCDA leadership academy graduate, who is dedicated to serving career industry colleagues. For free resources and information on upcoming events, visit www.careerthoughtleaders.com and www.resumewritingacademy.com.
Booth # 314
JIST-Paradigm Education Solutions' Career Development Brand
Contact: Jill Downs
salesops@ppij.com
(651) 215-7536
https://jist.com
JIST – Paradigm Education Solutions' career development brand – is a leading provider of materials and technology that help hard-to-employ populations build essential skills for career, academic, and life success. Our solutions help individuals prepare for their futures and master techniques to achieve their goals as quickly as possible. Learn more at JIST.com
Booth # 315
Resume Place, Inc.
Contact: Kathryn Troutman
Kathryn@resume-place.com
(410) 744-4324
www.resume-place.com
Kathryn Troutman, Author-Ten Steps to a Federal Job, Federal Resume Guidebook, 6th Ed. The first 100 people to visit our booth will receive a FREE BOOK! See the New Federal Resume Formal for Military Spouses! CFJST/CFCC Ten Steps is going strong. Get the latest curriculum. Help your clients land federal jobs with the latest Federal Resume formats!
Booth # 316
TCC Learning LLC
Contact: Todd Bermont
tbermont@theperfectjobsearch.com
(312) 493-0582
www.theperfectjobsearch.com

TCC Learning LLC offers online job search coaching and training programs that empower students and job seekers to land the perfect job. These programs are an ideal adjunct to student success courses, career services, workforce development, and are an effective alternative to expensive outplacement solutions. Please visit us at www.ThePerfectJobSearch.com.
Booth # 317
Identimap, Inc.
Contact: Robert Sherwood
webtalkwithbob@gmail.com
(913) 269-6589
www.identimap.com
Identimap develops apps that help students select and sustain a career. From high school to college to a first job, Identimap is a resource partner. Works on a smartphone, takes less than 5 minutes to use - designed for frequent use to prepare for meetings, interviews and social interactions. The app uses a proprietary method that compares a student's traits with an extensive library of occupation traits. The company offers counselors an annual subscription program, "CareerTrack", to track a student's progress. CareerTrack provides trait analytics, confidential messaging, intervention alerts and career clusters. Apple Store or Google Play.