EXHIBIT HALL
The NCDA Global Career Development Conference welcomes exhibitors and sponsors from public and private corporations, government agencies, educational institutions, and professional associations who offer career-related products and services such as books, media, computer-based systems, assessment instruments, and online services.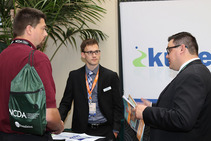 Please watch for the 2019 Exhibitor Registration and Prospectus for complete details!
To check on Booth availability, use the interactive floor plan below.
For more information, contact:
Alicia Cheek
305 N. Beech Circle
Broken Arrow, OK 74012
Phone: (918) 663-7060
Fax: (918) 663-7058
acheek@ncda.org
---
2018 Interactive Floorplan
Our virtual Exhibit Hall is open! View the map below for details about our conference exhibitors. The light blue boxes are the Regular booths that are still available. Move your cursor over the green boxes to see the name of the exhibitor in that booth. Check frequently back for updates.