EXHIBIT HALL & SPONSORSHIPS
**SCAM ALERT**
Several exhibitors have received phone calls from professional sounding individuals who indicate they are with NCDA. They are offering email lists and/or attempting to "confirm" your participation by requesting additional information. NCDA will not call you to sell you a mailing list. If there is a problem with your account, we will contact you via email. Please be very careful and pay attention to phone calls and emails that are not from ncda.org.
The NCDA Global Career Development Conference welcomes exhibitors and sponsors from public and private corporations, government agencies, educational institutions, and professional associations who offer career-related products and services such as books, media, computer-based systems, assessment instruments, and online services.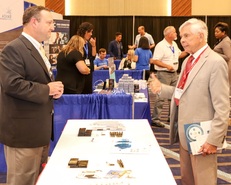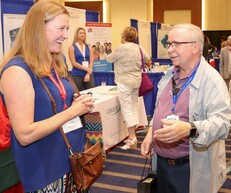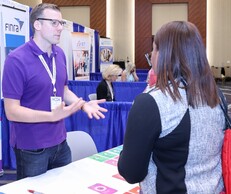 QUESTIONS? View the FAQs or contact:
NCDA
305 N. Beech Circle
Broken Arrow, OK 74012
Phone: (918) 663-7060
Fax: (918) 663-7058
mpowell@ncda.org
---
2023 Exhibitors
Booth # 100
SparkPath
Contact: JP Michel
jp@mysparkpath.com
www.mysparkpath.com
Booth # 101
Peak-Careers Consulting
Contact: Jim Peacock
jimpeacock@peak-careers.com
https://peak-careers.com
Booth # 102
ERS Scale
Mukhtar Rahemtulla
mukhtar@ersscale.com
www.ersscale.com

Booth # 103
Litzinger Career Consulting
Contact: Karen Litzinger
karen@karenscareercoaching.com
www.karenscareercoaching.com
Booth # 104
Bring Your "A" Game
Contact: Chris Carman
(303) 433-3243
ccarman@bringyour-agame.com
www.bringyour-agame.com
Booth # 107
Balanced Card Sorts
Contact: Anush Hansen
anush@kennebunkcounseling.com
www.balancedcardsorts.com
Booth # 109
CareerThoughtLeaders / RWA
Contact: Marie Zimenoff
marie@careerthoughtleaders.com
www.careerthoughtleaders.com
Booth # 110
Best Fit Career Finder
Contact: Daniel Greenwood
dan.greenwood@greenwoodsystem.com
www.bestfitcareerfinder.com
Booth # 112Contact: Bert Anderson Unpacking Techbert@unpackingtech.cawww.unpackingtech.ca

Booth # 113
Harrison Talent Analytics
Contact: Roni Abeytia
r.abeytia@harrisonassessments.com
harrisonassessments.com

Booth # 114
Careers By The People
Contact Mike Wysocki
mikewysocki@answerpress.com
www.careersbythepeople.com
Booth # 115
CareerOneStop
Kelly Tenner
Kelly.tenner@state.mn.us
www.careeronestop.org
Booth # 200
Geographic Solutions
Contact: Megan Aderele
maderle@geosolinc.com
www.geographicsolutions.com
Booth # 202
Upwardly Global
Contact: Gabriella Cipriani
gabriellac@upwardlyglobal.org
www.upwardlyglobal.org
Booth # 204
The National Resume Writers' Association
Contact: Tanya King Floyd
tanya@alliancawritingservice.com
www.thenrwa.org
Booth # 206
Chamberlain University and Walden University
Contact: Steve Lehrman
Steve.lehrman@adtalem.com
www.chamberlain.edu
Booth # 208
Booth # 210
Career Development Network
Contact: Rich Feller
rich.feller@colostate.edu
www.careerdevelopmentnetwork.org
Booth # 212
F1 Hire, LLC
Andrew Chen
Andrew.chen@f1hire.com
F1hire.com
Booth # 214
Work Like a Mother
Hilary Berger
hilary@worklikeamother.com
worklikeamother.com
Booth # 301, 303, 305
NCDA Career Resource Store
Booth # 307
NCDA Training and Education Council
Booth # 401
NCDA Poetry & Art Show

Booth # 403
Poetry Experience

Booth # 406
NCDA Credentialing Commission
Booth # 407
Illinois Career Development Association
Contact: Brian Pillsbury
Bpills1993@gmail.com
https://illinoiscareercounseling.com/
---