Career Developments Magazine
Members: Watch your mailboxes for the current issue described below. This is a print-only, members-only resource!



"WORK and DISABILITY: ISSUES and STRATEGIES in CAREER DEVELOPMENT"
Spring 2020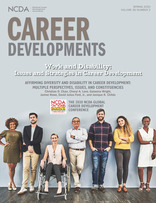 ---
Have you noticed some important changes to the magazine? Starting with the Winter 2019 issue, the magazine, the departments changed. Now we will not only offer our themed focus and feature article, but will include seven regular columns including:
Thought Leader Insights
Ethics in a Nutshell
On the Web
The Marketplace
Higher Education Highlights
Career Developments Bulletin
School Counselors
Our goal is to continue to provide timely and relevant information including insights on and analysis of current career counseling and development practice, theory, and resources.
Melissa Messer
Career Developments Editor
---
Members can read the full articles in the magazine.
Non-members are invited to join NCDA to receive this benefit, and lots more!
See the Table of Contents, on the left sidebar or below, and watch your mailbox for this issue.
---
Save
Save
Save
Save
Save
Career Developments
Spring 2020

Table of Contents
---
Focus
Affirming Diversity and Disability in Career Development:
Multiple Perspectives, Issues and Constitutions
By Christian Chan, Cheryl Love, Galaxina Wrights, Janine Rowe, David Julius Ford Jr., and Jonique R. Childs
Feature
The 2020 NCDA Global Career Development Conference
By NCDA Staff
Departments
Career Development Bulletin
Career Services for Students with Disabilities
By Carolyn Jones
School Counselors
Rethinking Career Development and Disability: School Counselors Support ALL Students
By Lauren Taylor
Higher Education Highlights
Improving Employment Outcomes for Students on the Autism Spectrum with Career Ready Boot Camp
By Laurie Ackles and Janine Rowe
Columns
From the President:
Assessing Personal Biases and Fears Before Serving People with Disabilities
By Kathy Evans
From the Executive Director:
NCDA Membership - Being a Part of a Growing Professional Community
By Deneen Pennington
Thought Leader Insights:
A Conversation with Steve Keisman
By Jenn Long Leard
Ethics in a Nutshell:
Ethical Practices for Working with Persons with Disabilities
By Keley Smith-Keller
The Marketplace
By Charles Lehman
On the Web
By Melanie Reinersman